This simple-setup, two-person tent offers a lot of bang for your buck: oodles of venting, multiple interior pockets, twin doors/vestibules and a mesh gear loft. Slim-packing and only 2.8 kilograms, it's backpack- or kayak-ready. (And I love supporting Canadian companies.)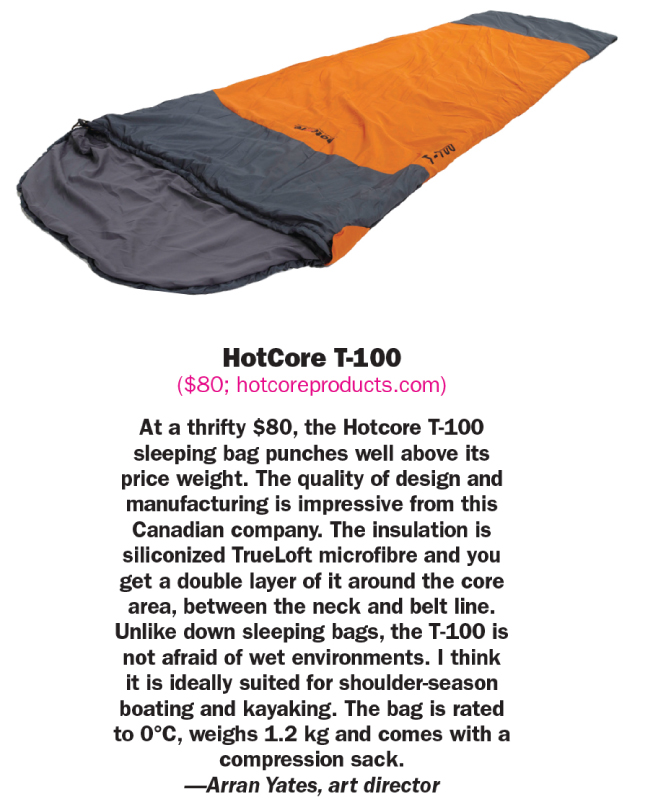 T-100

Sleeping Bag Review
At a thrifty $80, the Hotcore T-100 sleeping bag punches well above its price weight. The quality of design and manufacturing is impressive from this Canadian company. The insulation is siliconized Trueloft microfibre and you get a double layer of it around the core area, between the neck and belt line. Unlike down sleeping bags, the T-100 is not afraid of wet environments. I think it is ideally suited for the shoulder-season boating and kayaking. The bag is rated to 0°C, weighs 1.2 kg and comes with a compression sack.
Hotcore Sleeping Bag

Review

& Tips to

Stay Warm Winter Camping
Last weekend I tried out the well-priced, Canadian-brand Hotcore R-300 sleeping bag. It's spacious, rectangular, breathable and insulted with Siliconized TrueLoft microfibre (meaning it's still provides warm if it gets wet). It also only costs a mere $125.
Tarps make campsites better-like this three-metre-area, seam-taped, waterproof­-coated, 75D polyester unit from Canadian company Hotcore. It comes ready to hoist with six high-viz guy-lines and two grom­mets, and at just 600 grams it's good for car-camping or backcountry excursions.
Genesis

Sleeping Bag Review
One of Hotcore Products newest models, the Genesis mummy bag is rated to a perfect-for-fall -7 degrees Celsius and offers a two-way zipper for ventilation on those toastier September nights. The cozy brushed polyester lining makes snoozing easy and the shoulder drawcord helps to snuggle-in when the temps drop. But the standout feature from this Canadian company is value-for the price, it would be difficult if not impossible, to get a warmer bag.
This lightweight tent is a great buy at a great price offering room and versatility all while only taking a small space in your pack.
FUSION

Sleeping Bag Review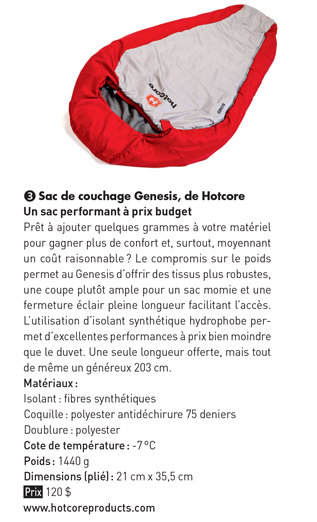 GENESIS

Sleeping Bag Review
T-200

Sleeping Bag Review
MANTIS

2 & 3 Tents Review
SLEEPING BAG

LINER REVIEW
The Genesis 4S has been one of my go-to bags for spring, fall, and winter camping adventures. Hotcore has done a great job balancing weight, comfort and performance in this cozy mummy bag.
The Kona backpacks deliver exceptional quality at a comfortable price point. We've been extensively using the packs for day trips, winter camping adventures and multi-day backpacking trips. The Kona feels comfortable, even when packed to the brim with some of the extras you probably should have left at home. With ample pouches, straps, zippers and more, you have a versatile backpack that should meet the needs of most every hiker.